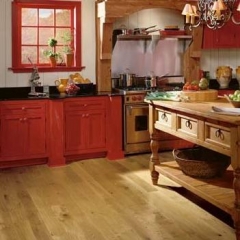 A type of floating floor, lock and seal flooring is suspended above a subfloor and rests on underlayment. Gluing was the original method for attaching lock and seal flooring together. Since then, click and lock and lock and fold methods have been developed.

99 percent of floating floors are made out of engineered hardwood, and the use of engineered instead of solid is practical. Once all planks are attached, the floor functions like a large piece of hardwood, expanding and contracting together. Solid hardwood expands and contracts too much, however. Engineered hardwood, on the other hand, is composed of three to nine pieces of natural wood bonded together, and the grain on each layer faces a different direction. This composition allows engineered hardwood to expand and contract less and to be stable in environments with heat and moisture.
Installation
Following the directions specified by the manufacturer is the first step for installing lock and seal flooring. All manufacturers have different directions and may require materials like glue, a tapping block, or hammer. Be prepared before you start installing the wood.
Before any planks are added, the underlayment needs to be rolled out, and excess material must be cut off. Underlayment, supplied by the manufacturer, is typically a three-in-one material with a moisture barrier on one side and foam cushioning on the other.
As you add the planks on top, make sure that the first few rows are straight and free of gaps. Begin at the longest parallel wall in the room and work from left to right. To help with alignment, scrap pieces need to be added in the expansion area to prevent the planks from moving apart. Space the planks 18 to 24 inches apart at first.
Lock and seal flooring requires glue, and before the planks are pressed together, put a bead of glue on top of the tongue. Then, align the boards as close as possible. To get a close fit, put a tapping block next to a plank and tap the block with a hammer. Check for gaps as you put more and more boards together.
When you get to the last piece, it likely will not align and, instead, needs to be cut and fit. Cut where the tongues will face each other and then attach it.