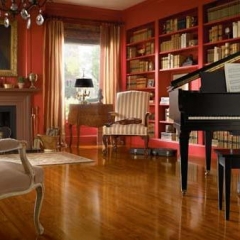 Lock&Fold® technology isn't exclusive to Bruce Hardwood's engineered products. Bruce laminate flooring, as well, incorporates Lock&Fold®.

With no glue, staples, or nails needed, Lock&Fold® flooring, be it laminate or engineered, is easy to install. Floated over any flat subfloor, Lock&Fold® products first need underlayment, which must be installed in the same direction as the flooring; edges, as well, must be placed together without overlapping. As a Lock&Fold® product is installed, start from the left side of the space, and face tongues toward the wall. Provide expansion space, as well, between boards. As the first row of flooring is created, overlap joints with the next board by connecting the tongue and groove and folding the attached plank down. Once all flooring is laid out, cut the last board where its tongue and that from the board before face each other. As soon as all planks are attached, add the molding by nailing it to the wall, not the floor.

Most lines of Bruce laminate flooring incorporate Lock&Fold® technology. As with any flooring, Bruce grades its laminate lines. Premium Bruce laminate flooring includes Park Avenue™ and Reserve™ Premium collections, Best grade flooring includes Reserve™, Chelsea Park™, and American Home™ Elite Plank, and Good laminate flooring includes Heritage Heights™.

Bruce Park Avenue™ laminate flooring is made out of a Magnum Plus HDF core, a high-performance material with color-coordinated edges; has enhanced moisture protection; uses Hi-Definition technology for images; and is treated to be mold, fungus, and mildew resistant. With a selection of laminate products mirroring the appearance of exotic species, Park Avenue™ consists of thick five inch-wide planks that imitate the sound of hardwood and is designed with micro-beveled edges.

The other Premium and Best collections of Bruce laminate flooring have similar features, but each line has its distinctions. Reserve™ laminate flooring has a hand-sculpted texture and natural pressed edges and ends and is available in five- or seven-inch widths. Reserve™, as well, strives to imitate the looks of exotic or domestic hardwood species. American Home™ Elite Plank, however, is not designed with Lock&Fold® technology; rather, lock installation must be used for this line. All Premium and Best lines, as well, come with 30-year warranties.

As a value line of Bruce laminate flooring, Heritage Heights™ is characterized by square edges, which gives a fully installed floor a smooth and even appearance. With images of domestic species used, Heritage Heights™ has a realistic appearance and comes with a 20-year warranty.